JOSHUA TREE
WOMEN'S YOGA RETREAT
CALIFORNIA
MARCH 21 - 24, 2024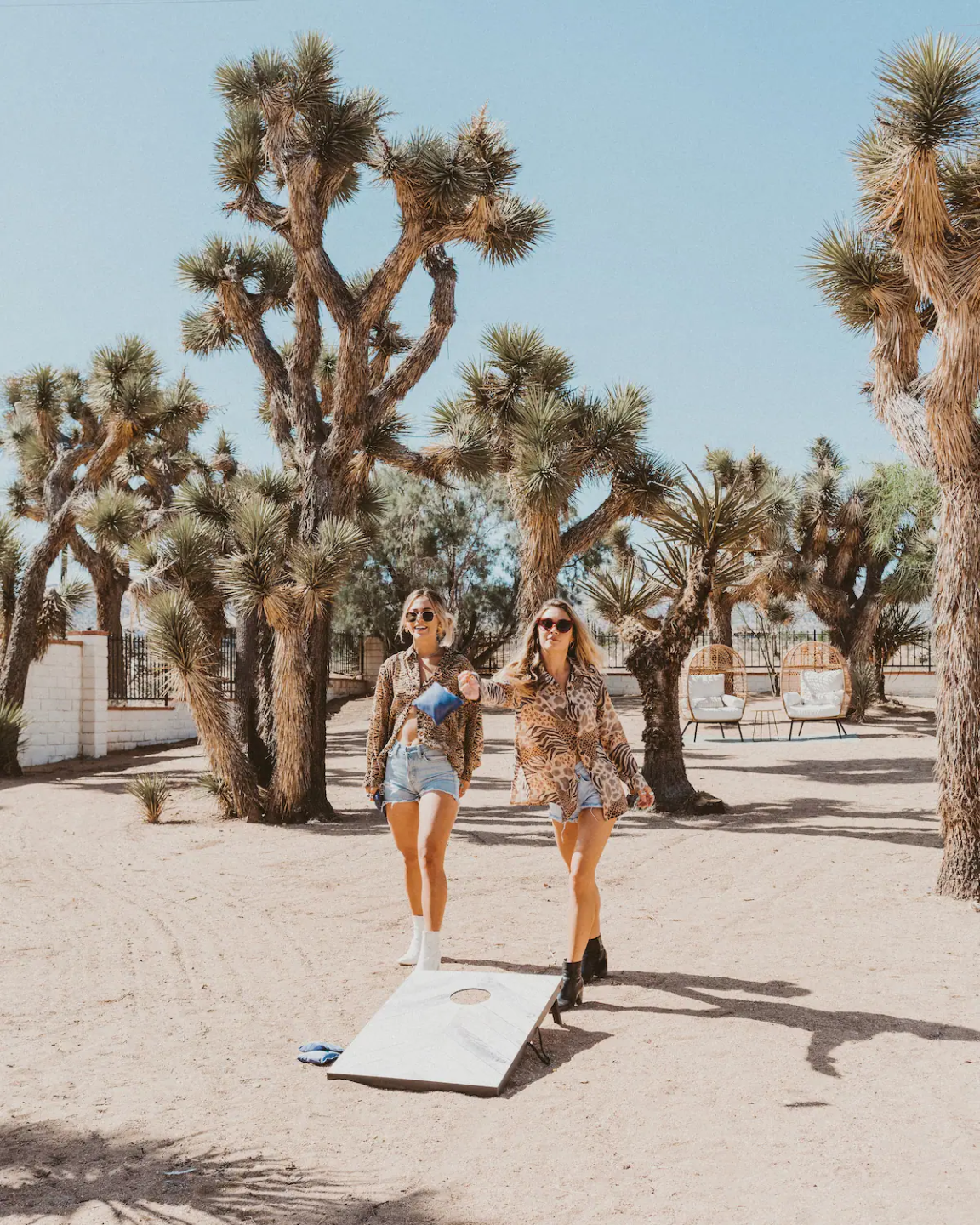 If you've been searching for a spiritual desert escape, look no further.
We are thrilled to invite you to join us on a 3 night, 4 day women's only desert retreat to the stunning and sacred Joshua Tree National Park in California. Our retreat center is a private luxury villa, formerly owned by Frank Sinatra himself, in the Yucca Valley of California, complete with valley, mountain and desert views, a private yoga studio, tennis court, hot tub, pool, and an instagram-worthy interior that will make your jaw drop.
Come explore the deserts rugged rock formations, vast, sparkly night sky and the spiky Joshua Trees and reconnect with yourself and Mother Nature in a beautiful, natural oasis.
Experience the Magic of Desert Living
This is the perfect retreat to spend your days lounging by the pool, hiking through the national park, or stargazing at the night sky.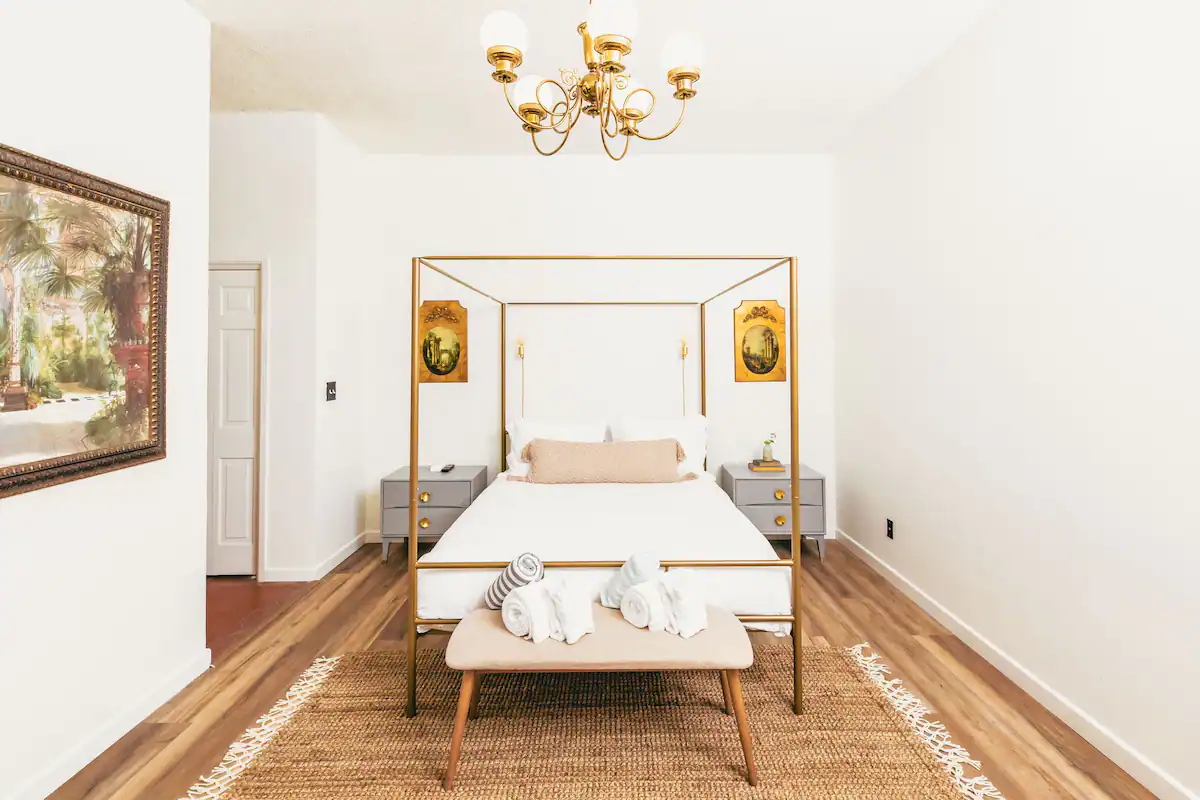 INCLUDED:
Private Luxury Villa accommodations with valley, desert and mountain views

Yoga Studio with all props included

Yoga Classes Daily

Self Development circles and workshops

30 min 1:1 clarity sessions with Lindsay or Caroline

Desert Journey Sound Bath and Meditation

Hiking in Joshua Tree National Park

All meals included (Private chef catered meals including 3 breakfasts, 2 lunches, and 3 dinners)

Private Tennis Court on property

Stunning Rock Lined Pool

Hot Tub

Outdoor Shower

Hammock Lounge Circle

Outdoor firepit

Full kitchen

Wifi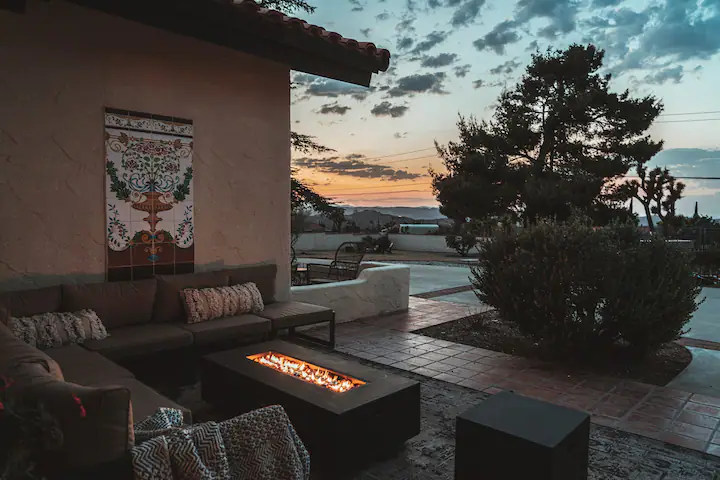 ACCOMMODATIONS:
The Artanis Villa in Yucca Valley, California, the gateway to Joshua Tree National Park, is a luxury property formerly owned by Frank Sinatra himself. Our private villa contains desert, mountain and valley views, complete with an onsite tennis court and yoga studio.
Spend the days lounging in the rock-lined pool, reading a book in one of the many instagram-worthy lounge set ups, or exploring the local area. At night, gaze at the starry desert sky, gather around the fireplace, and take a dip in the hot tub. From breathtaking sunsets, to Joshua Tree hikes, morning yoga flows in the desert, and evening sound baths, there will be no shortage of natural beauty or ways to reconnect with nature and with yourself.
The property is complete with all yoga mats and blocks, an outdoor pool, hot tub, yoga studio, tennis court, hammocks, fireplaces, a full kitchen, wifi, and an interior design that will make you feel like you're living like a celebrity.
All rooms are shared with either queen, king, or single beds.
Scroll the gallery below to check out the property:
"This was the perfect retreat to connect with nature, community, and myself. I loved the combination of guided reflection as well as time to be present in the moment in nature. I felt so rejuvenated and was so full of gratitude throughout and after the retreat. I really can't say enough good things."
Claire, Vail Mountain Retreat, 2022
"I am so grateful I went on this trip! The honesty and kindness of the participants was wonderful - like being in a warm, safe bath for a week!"
Andrea, Belize, 2023
This retreat is SOLD OUT.
Oftentimes we have a spot open up! Please sign up for our waitlist and be the first to get notified about joining us in Tuscany!
Join The Waitlist
Be the first to know if a spot opens up! (which often happens)
Booking & Cancelation Policy
The $500 deposit is non-refundable and secures your spot on this trip. Full retreat payments are due no later than 75 days before the retreat. If you need to cancel before the 75 day window, you will be refunded your trip payment, excluding the $500 deposit. If you cancel in less than 75 days before the trip starts, no refunds will be issued. In the event the trip needs to be cancelled for unforeseen circumstances by your trip organizers, your deposit and trip payment will be fully refunded.
How do I get to the retreat center?
What airport do we fly into?
Is there Wifi at the retreat center?
Do I need to be vaccinated to join this retreat?
I am traveling by myself. Will I be able to meet up with other retreaters prior to arrival?
Can I sign up even if I am a beginner or new yogi?
Caroline Amsler
Caroline believes that yoga has the power to positively transform our lives. She is a Trauma Informed Yoga Teacher and she earned her Yoga Teacher Credentials in the jungle of Costa Rica and since has taught in several locations across the globe. Prior to starting Inhale For Om, she worked as a Travel Director leading corporate incentive trips around the world. She currently lives in the Outer Banks of North Carolina with her husband and two dogs and teaches yoga to her local community. Caroline believes her dharma is to inspire others to create a life they love filled with purpose and passion.
Lindsay Berman
Lindsay loves that no matter where in the world you roll out your mat, Yoga always brings your home to yourself. She is passionate about the benefits movement, mindfulness and breathwork provide and has been sharing those practices with others ever since completing her first Yoga Certification on an island in Southern Thailand. Lindsay has since taught everywhere from her hometown in Milwaukee, WI to oceanside resorts throughout Southeast Asia, retreat centers in Peru and Costa Rica, and at studios around Vail Valley in Colorado where she currently teaches and lives. Lindsay's ultimate mission is to empower others to lead their most fulfilling, passionate, joy-centered lives through human connection, adventure, and travel.