GREECE
YOGA RETREAT
AMORGOS ISLAND
JUNE 16-23, 2024
Blue as far as the eye can see
Picture yourself on a bright white Greek island surrounded by blue waters of Aegean Sea. You wake up in a sea-view room, open the balcony door and fill your chest with joy breathing in the fresh air and admiring the Big Blue. Maybe you even catch the sunrise. The day ahead is filled with bliss. Yoga practice in the sea-view shala, delicious breakfast, island adventures, spa treatments, sunset pranayama… Can you dream of anything else? This too can come true! Experience 5-star luxury on this 7 night retreat on Amorgos Island.
A Genuine Trip of a Lifetime
A sought-after travel destination filled with iconic ruins, pristine beaches, delicious food, and friendly faces. An epicenter of culture, Greece birthed democracy and paved the way for philosophical thought. This ancient country knows how to enjoy the good life and wants you to start your journey to its beautiful shores and vibrant cities.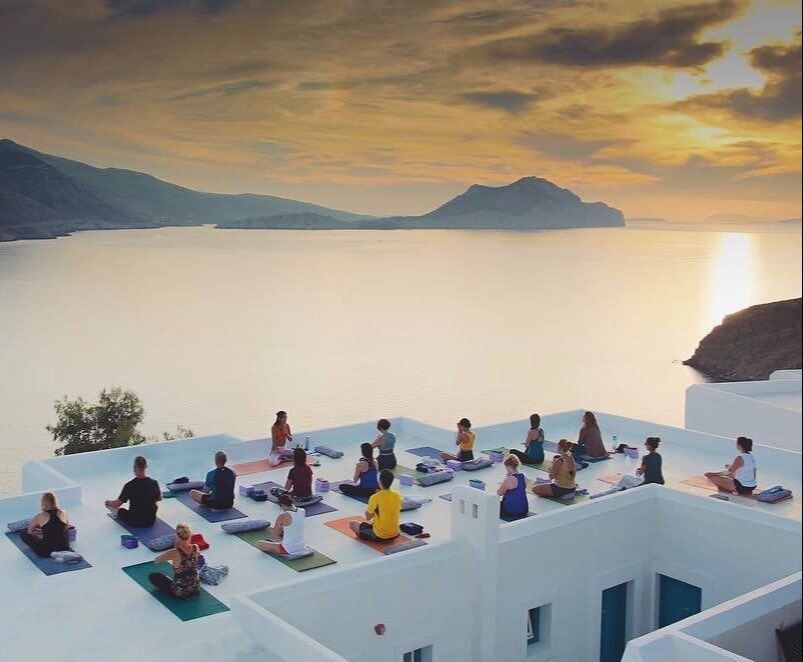 INCLUDED:
7 nights luxury accommodation in a Superior room with private balcony and sea view

Breakfast & Lunch or Dinner Daily
Daily Yoga & Meditation Practice
Self Empowerment Workshops
Private Yacht Tour around the islands
Arrival and departure transfers on Amorgos (port-hotel-port)
Use of 5 Star Spa facilities (sauna, hammam, jacuzzi, indoor seawater swimming pool, fitness center)
Use of Yoga shalas and yoga equipment (mats, blocks, stripes, bolsters, blankets)
Use of outdoor pool
One 30-minute relaxing massage
ACCOMMODATIONS:
Welcome to an oasis of luxury and peace where you will experience comfort, elegance and plenty of inspiration. Famous for being a top yoga destination worldwide, at Aegialis Hotel and Spa we offer 5 beautiful yoga shalas and an outdoor rooftop, with direct views to the crystal clear Aegean sea and the Amorgian mountainous landscape.
This is the only 5 star hotel in Amorgos island with minimal yet luxurious room design, comforts and exceptional room service to provide you ultimate indulgence. All rooms offer amazing views of the Aegean sea and the Aegiali beach! The unique Amorgian hospitality in combination with the Cycladic beauty promises you memories you will always treasure.
Experience 5-star luxury in an island famous for having one of the highest magnetic fields in the world. Located on a slight hill overseeing the entire Aegiali Bay, Aegialis Hotel & Spa offers you a front-row seat to sea views and the majestic mountainous landscape of the island. This is a prime location, with only a short walk to the beach and the Aegiali shops.
Scroll the gallery below to check out the property:
"This was everything and more than I hoped to receive from a week long yoga retreat. The yoga and workshops were amazing but it was the connections made within all the participants and locals that made it extremely special. I came knowing absolutely no one and with zero connections whatsoever to Lindsey or Caroline. I randomly came across them via instagram! I searched through their website, past trips, social media etc. and felt motivated to go and trusted this would go well -even if I didn't know a single person going into it. I left with 14 new friends I can count on if I ever need someone to listen and be there. This has been one of the most rewarding experiences of my life."
Rosalinda, Guatemala 2023
"My trip with 'Inhale for Om' was easily one of the most memorable & transformational weeks of my life. I was introduced to many new positive things throughout my time there that I will cherish forever. There was no shortage of adventure with this crew as well as yoga surrounded by the beautiful jungle (& monkeys!). We ate the best fresh food & experienced the Pura Vida culture first hand. All thanks to Caroline & Lindsay - they truly are incredible, & I look forward to going on many more retreats led by them in the future"
Melissa, Costa Rica 2022
LIVE YOUR DREAM IN GREECE
Investment + Room Types
SHARED ACCOMMODATION
$3389
Two beds and one bathroom
Place $500 deposit to secure your spot
Final payment will be requested three months prior to retreat
PLACE DEPOSIT
PRIVATE ACCOMMODATION
$4440
One bed and one bathroom
Place $500 deposit to secure your spot
Final payment will be requested three months prior to retreat
PLACE DEPOSIT
Booking & Cancelation Policy
The $500 deposit is non-refundable and secures your spot on this trip. Full retreat payments are due no later than 75 days before the retreat. If you need to cancel before the 75 day window, you will be refunded your trip payment, excluding the $500 deposit. If you cancel in less than 75 days before the trip starts, no refunds will be issued. In the event the trip needs to be cancelled for unforeseen circumstances by your trip organizers, your deposit and trip payment will be fully refunded.
How do I get to the retreat center?
What airport do we fly into?
Is there Wifi at the retreat center?
Do I need to be vaccinated to visit Greece?
I am traveling by myself. Will I be able to meet up with other students on the retreat prior?
Can I sign up even if I am a beginner or new yogi?
Caroline Amsler
Caroline believes that yoga has the power to positively transform our lives. She is a Trauma Informed Yoga Teacher and she earned her Yoga Teacher Credentials in the jungle of Costa Rica and since has taught in several locations across the globe. Prior to starting Inhale For Om, she worked as a Travel Director leading corporate incentive trips around the world. She currently lives in the Outer Banks of North Carolina with her husband and two dogs and teaches yoga to her local community. Caroline believes her dharma is to inspire others to create a life they love filled with purpose and passion.
Lindsay Berman
Lindsay loves that no matter where in the world you roll out your mat, Yoga always brings your home to yourself. She is passionate about the benefits movement, mindfulness and breathwork provide and has been sharing those practices with others ever since completing her first Yoga Certification on an island in Southern Thailand. Lindsay has since taught everywhere from her hometown in Milwaukee, WI to oceanside resorts throughout Southeast Asia, retreat centers in Peru and Costa Rica, and at studios around Vail Valley in Colorado where she currently teaches and lives. Lindsay's ultimate mission is to empower others to lead their most fulfilling, passionate, joy-centered lives through human connection, adventure, and travel.